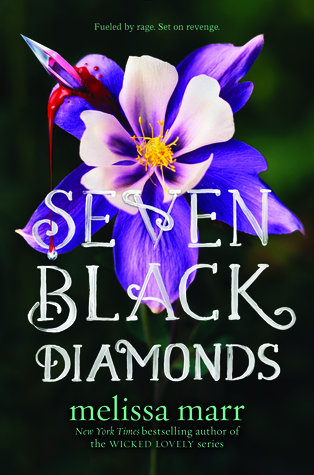 Title: Seven Black Diamonds
Author: Melissa Marr
Release date: March 1st 2016
Publisher: HarperCollins
Genre: Young Adult Paranormal
Format: eARC
Pages: 271
Source: Edelweiss
This riveting fantasy marks Melissa Marr's return to the world of faery courts that made her Wicked Lovely series an international phenomenon.

Lilywhite Abernathy is a criminal—she's half human, half fae, and since the time before she was born, a war has been raging between humans and faeries. The Queen of Blood and Rage, ruler of the fae courts, wants to avenge the tragic death of her heir due to the actions of reckless humans.

Lily's father has always shielded her, but when she's sent to the prestigious St. Columba's school, she's delivered straight into the arms of a fae sleeper cell—the Black Diamonds. The Diamonds are planted in the human world as the sons and daughters of the most influential families and tasked with destroying it from within. Against her will, Lilywhite's been chosen to join them...and even the romantic attention of the fae rock singer Creed Morrison isn't enough to keep Lily from wanting to run back to the familiar world she knows.

Melissa Marr returns to faery in a dramatic story of the precarious space between two worlds and the people who must thrive there. The combination of ethereal fae powers, tumultuous romance, and a bloodthirsty faery queen will have longtime fans and new readers at the edge of their seats.
I haven't read any of Marr's previous books, but after this one I really want to get started on them! Seven Black Diamonds is an exciting novel full of intrigue, romance, action, and a bunch of awesome characters. I love fae books, and this is probably one of my favourites.
The Seelie and Unseelie faerie courts are currently united as one, although it's a very precarious situation. Lily is half human, but she's suddenly put right in the middle of everything. After she meets Creed, a member of the Black Diamonds, Lily wants answers about the fae side of her, and the Black Diamonds can give them to her. Except that Lily doesn't want to join them, doesn't want to answer to the fae queen, and definitely doesn't want to kill humans. But there are things about her abilities she doesn't understand, and to figure them out, she needs to embrace her fae side.
This book is told in several POVs, mostly Lily's and Eilidh, the queen's daughter and heir to the throne. We also get POVs of the other Black Diamond members, which was confusing at first but after I got to know them it was alright. The POVs actually helped to understand what's going on in the other members' heads.
This is quite a character-centric novel, so I'll probably talk mostly about them rather than plotlines. Lily is great - her father is the head of an important criminal organization, so she knows how to take care of herself. She's resourceful and independent, but there are so many secrets she's hiding. Her fae powers, for example. Lily has a list of 'Abernathy Commandments' that she follows, and they keep her on track. But though she's tough, she's also compassionate and she has honour. Also, I liked that she doesn't really show a soft side of herself. Lily is a total badass, and it was a crazy ride being in her head.
There are six other members, and we get to know a few of them quite well. Creed is Lily's love interest (no love triangle, don't worry), and he's a rock singer in the mortal world. He and some of the others live a life of luxury in the spotlight, without a care. But camera Creed isn't the real Creed. I loved getting to know the real Creed! He's sweet and protective and also kind of intense. I'm definitely hoping there's more Creed-Lily interactions in the next book.
Zephyr is another member we meet, the leader of the group. He's kind of a wild card.. moody, jealous, but also kind and good at heart. Lily was 'supposed' to be with him, to lead the group with him, but instead she falls for Creed. So that impacts Zephyr, obviously, but there's another girl who matters more to him than anything else, and he won't admit it. Yeah, there's a lot of romantic tension everywhere. We also meet Alkamy, Violet, Will and Roan. All very different characters, and I hope we get to know them better later on. I already love Violet, though. She's snarky and smart and just as badass as Lily.
Each of the members have a fae affinity to an element, or even two. It was interesting to see how they used them and how often they came in handy. This book was more of an introduction to the series and characters, but I was glad we got some nice action scenes towards the end, with the fae using their powers.
Does this sound like too many characters in a book? Well, there are a few more! The other main POV we get is Eilidh, the queen's daughter. She resides in the fae world, so we get to know what that's like, and what the queen is really like, too. Eilidh has only two allies with her - her half-brother Rhys and her best friend Torquil. The three of them are opposed to whatever machinations the queen is planning, and the two separate storylines of the novel soon converge, which is when everything makes a lot more sense.
The plot isn't devoid of cliches, but everything was done well in my opinion! There were also a few surprises I didn't see coming. I thought the larger-than-normal number of main characters would be annoying, but it really wasn't. I just wish some of them had more focus in the story. I thoroughly enjoyed this one and I can't wait to see what comes next!
*Thank you to HarperCollins for providing me with an eARC for review*
Rating: 4/5