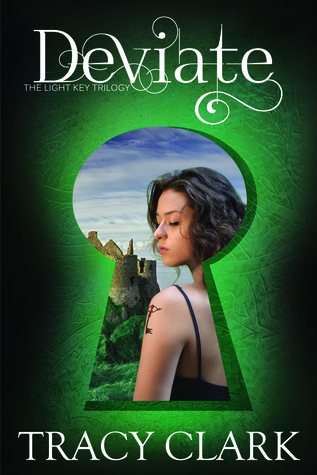 Title: Deviate (The Light Key Trilogy #2)
Author: Tracy Clark
Release date: March 3rd 2015
Publisher: Entangled Teen
Genre: Young Adult Paranormal
Format: eARC
Pages: 338
Source: NetGalley
Tormented after a daring escape, Cora Sandoval must find a way to stop the Arrazi from murdering innocent people and from violating, using, and killing the Scintilla for their powers. She must also accept one bitter betrayal: Finn Doyle—the Irish boy who has both a piece of Cora's heart and soul—is Arrazi...

On the verge of extinction and sought by those who would either consume or destroy them, Cora and the remaining Scintilla survivors must solve the mystery of The Light Key. If they fail, the truth will stay buried forever and mankind will pay the ultimate price.

No longer will she hide.

No longer will her loved ones be hunted.

And she will have her vengeance...even if she shatters her heart in the process.
I'm glad I reread Scintillate before going into this one, because I really didn't remember much of what had happened, and the plot picks up right where the previous book left off. For the most part, I felt Deviate was a lot slower than Scintillate, and though there were some good action scenes and twists, not much really happened in this. I saw a bit of a middle-book syndrome while reading it.
Cora, her mom, and Giovanni are on the run from the Arrazi, and Cora is reeling from the death of her father and the betrayal of Finn. Moreover, they need to figure out the mystery of the light key and why it's so important. Cora is doing her best to get her life in order after it's been messed up this bad, but it's hard, and thinking about Finn just makes it worse. She knows she needs to forget about him and focus on how to keep herself, her mom, and Giovanni alive, but that's easier said than done.
I liked Cora more in this book, mostly because she's dealing with so much and I really sympathized with her. There's character development as well, since she's stronger now after the events of the first book. Finn, though, I really didn't like. He spends half the book feeling sorry for himself and deciding to kill himself, then suddenly realizes he needs to live. But he's still whiny and annoying. I don't know what happened to the Finn we first met in Scintillate, but this boy is not him.
Some parts of the book seemed like an info dump to me - they were all in concentrated areas. I felt like it would have worked better if the history and background info was spread out over the course of the book somehow. Like I mentioned before, not much happens, so I was a little disappointed about that. Hopefully we'll get to see all the cool stuff in the final book of the trilogy.
The twists were great - as in, I didn't see them coming. I can't say I liked them, though. They were just a bit much, and created even more drama in this already dramatic series. Overall, I liked Deviate as a whole, but I did have issues with it. I'm still definitely looking forward to seeing how everything ends! Though I'm not looking forward to more Finn.. Giovanni is so much better. I'm hoping he does more in the final book.
*Thank you to Entangled Teen for providing me with an eARC for review*

Rating: 3/5