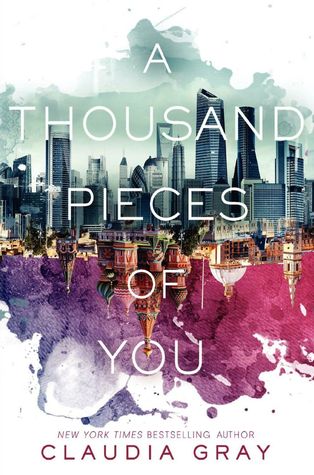 Title: A Thousand Pieces of You (Firebird #1)
Author: Claudia Gray
Release date: November 4th 2014
Publisher: HarperTeen
Genre: Young Adult Science Fiction
Format: eARC
Pages: 248
Source: Edelweiss
Every Day meets Cloud Atlas in this heart-racing, space- and time-bending, epic new trilogy from New York Times bestselling author Claudia Gray.

Marguerite Caine's physicist parents are known for their radical scientific achievements. Their most astonishing invention: the Firebird, which allows users to jump into parallel universes, some vastly altered from our own. But when Marguerite's father is murdered, the killer—her parents' handsome and enigmatic assistant Paul—escapes into another dimension before the law can touch him.

Marguerite can't let the man who destroyed her family go free, and she races after Paul through different universes, where their lives entangle in increasingly familiar ways. With each encounter she begins to question Paul's guilt—and her own heart. Soon she discovers the truth behind her father's death is more sinister than she ever could have imagined.

A Thousand Pieces of You explores a reality where we witness the countless other lives we might lead in an amazingly intricate multiverse, and ask whether, amid infinite possibilities, one love can endure.
A Thousand Pieces of You is an awesome YA sci-fi with a really interesting take on parallel universes. I love sci-fi of any kind, especially stuff like this. I love how no matter how many books I read based on a multiverse concept, I'm always intrigued because they're all so different from each other.
Marguerite's parents are genius physicists, and they've invented a device that can allow someone to enter parallel universes. Their lives should be amazing now, yeah? Except that Marguerite's father is killed and her parents' assistant Paul runs away with the device. Escapes into another dimension. So Marguerite takes it upon herself to go after him and get justice for her father, using an earlier prototype of the device (called the Firebird) and her parents' other assistant, Theo. Marguerite and Theo encounter things they'd never even dreamed of, and as they chase Paul through the universes, Marguerite soon realizes that he may not be guilty after all.
I was initially expecting quite a few different dimensions, but in fact a major part of the book is spent in a certain olden-style universe, in Russia. I really liked that, mostly because I've studied Russia and the Romanov family in history, and it was interesting to see how similar this universe was to that. Oh, and Marguerite is royalty in that one, since her mother is apparently a Romanov descendent. I grew quite attached to characters in that dimension, as did Marguerite, and after a while it was hard to believe Marguerite hadn't been there very long at all.
Marguerite herself didn't really stand out to me too much. She's not like her parents - she's the artsy type while they and her sister are science people. Marguerite's an awesome artist though. But honestly they way she described anything scientific... It got on my nerves. And it felt like every time some physics would come up and people would try to explain it to her, they'd dumb it down so she'd get it. And yeah, okay that's for readers as well because we're obviously not going to get complicated physics theories. But I myself am really interested in that, so it frustrated me when we didn't really get an explanation at all.
Okay I'm digressing. Anyway, I meant to say that since Marguerite's parents are like freaking amazing and invented a dimension-travelling device for crying out loud, she should at least show some interest in how it works, right? Thank god she had Theo and sometimes Paul with her so they could tell her how things work.
Which brings me to the love interests. Yes, two. It's okay, not much of a love triangle really. It's very obvious who Marguerite is more drawn towards. We get a lot of flashbacks of their interactions, all three of them, and I definitely liked Paul better from those. He's the smart and quiet type, and I loved that. Not overly confident or boisterous like Theo. Although I kind of liked Theo too.. But Paul better for sure. And then when we get to know Paul in present time, I liked him then as well. Though things get very weird and different in the whole dimension-travelling thing, because there are already other versions of you in other universes. You just take over their body. It's a lot less confusing in the book, don't worry!
Bottom line, I loved Paul. Though honestly I don't get how both of them are so interested in Marguerite, like romantically I mean. They don't have much in common, and both guys are older than her. Paul just by two years, but Theo by three and a half! Which is quite a lot when you're teenagers/young adults. So that was a bit hard to wrap my head around. But the romance is actually quite powerful in this book. And I'm sure it'll be more in the next.
This review is already getting way longer than I meant it to. I probably shouldn't say anything else now because I don't want to give anything away. Just read the book! Especially if you love science fiction. Because you will adore this then. I can't wait to find out more about this concept and this world!
*Thank you to HarperCollins for providing me with an eARC for review*
Rating: 4/5