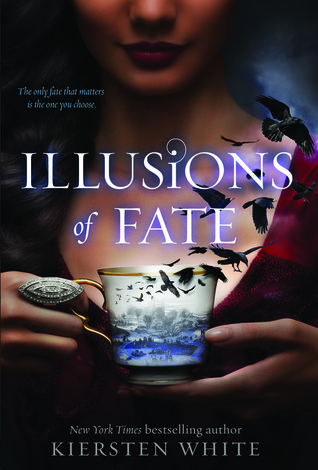 Title: Illusions of Fate
Author: Kiersten White
Release date: September 9th 2014
Publisher: HarperTeen
Genre: Young Adult Fantasy
Format: eARC
Pages: 210
Source: Edelweiss
Downton Abbey meets Cassandra Clare in this lush, romantic fantasy from New York Times bestselling author Kiersten White.
"I did my best to keep you from crossing paths with this world. And I shall do my best to protect you now that you have."
Jessamin has been an outcast since she moved from her island home of Melei to the dreary country of Albion. Everything changes when she meets Finn, a gorgeous, enigmatic young lord who introduces her to the secret world of Albion's nobility, a world that has everything Jessamin doesn't—power, money, status…and magic. But Finn has secrets of his own, dangerous secrets that the vicious Lord Downpike will do anything to possess. Unless Jessamin, armed only with her wits and her determination, can stop him.
Kiersten White captured readers' hearts with her New York Times bestselling Paranormalcy trilogy and its effortless mix of magic and real-world teenage humor. She returns to that winning combination of wit, charm, and enchantment in Illusions of Fate, a sparkling and romantic new novel perfect for fans of Cassandra Clare, The Madman's Daughter, and Libba Bray.
I adore all of Kiersten White's novels. Like every single one. So of course I loved this one too! Illusions of Fate is a cute, humourous, and intriguing YA fantasy. It worked great as a standalone, which is awesome because you don't get to see too many of those nowadays, not in the fantasy genre.
Jessamin is from Melei, which has a very different culture to where she now resides in Albion. Her appearance brings her a lot of attention, but not the good kind. She's shunned mostly, and struggles to find her place. But when she runs into Finn, she's introduced to a whole other world in Albion, a world of magic that she'd never known about. Jessamin's life gets a whole lot more interesting, and more dangerous too.
Jessamin is just hilarious. I loved her character! She's ordinary in the sense that she doesn't have any magic like the people around her, and she's not high-class or anything. In fact, she works at a hotel part-time to make a living while she studies. But her personality is so fascinating. Jessamin is really witty, and she actually had me laughing out loud at some of her lines.
Finn, I thought, was equally awesome. He's charming and funny and the two of them together are just so adorable! I love how they're not intense, just light-hearted and fun. Just like the atmosphere of the book. I loved how Jessamin doesn't take to him immediately - it takes him a while to gain her trust.
The other aspects of this novel really drew me in as well. The world-building was great for a standalone, and though I do wish I could read more in this world, I'm really glad with what we get. There's danger and humour and magic everywhere, and it's just all so fantastic. Yes, the book is shorter than most, but I really enjoyed all of it.
So if you're a fan of fantasy or of this amazing author, definitely read this book! And it's not just that - this is for when you want a casual read, not something that makes your head hurt (not in a bad way, but I have read books that were amazing but too complex with world-building and characters, and they really did give me a bit of a headache). So yeah, I adored Illusions of Fate and I can't wait for White's next YA!
*Thank you to HarperCollins for providing me with an eARC for review*
Rating: 4/5