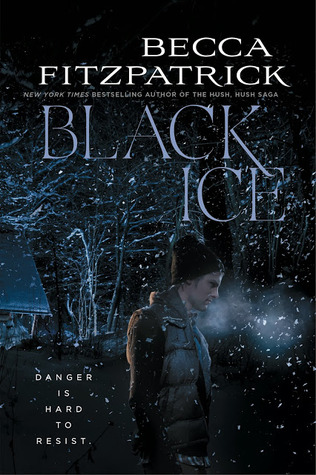 Title: Black Ice
Author: Becca Fitzpatrick
Release date: October 7th 2014
Publisher: Simon & Schuster
Genre: Young Adult Thriller
Format: eARC
Pages: 392
Source: Edelweiss
Sometimes danger is hard to see... until it's too late.

Britt Pfeiffer has trained to backpack the Teton Range, but she isn't prepared when her ex-boyfriend, who still haunts her every thought, wants to join her. Before Britt can explore her feelings for Calvin, an unexpected blizzard forces her to seek shelter in a remote cabin, accepting the hospitality of its two very handsome occupants—but these men are fugitives, and they take her hostage.

In exchange for her life, Britt agrees to guide the men off the mountain. As they set off, Britt knows she must stay alive long enough for Calvin to find her. The task is made even more complicated when Britt finds chilling evidence of a series of murders that have taken place there... and in uncovering this, she may become the killer's next target.

But nothing is as it seems in the mountains, and everyone is keeping secrets, including Mason, one of her kidnappers. His kindness is confusing Britt. Is he an enemy? Or an ally?

BLACK ICE is New York Times bestselling author Becca Fitzpatrick's riveting romantic thriller set against the treacherous backdrop of the mountains of Wyoming. Falling in love should never be this dangerous…
I haven't read too many YA thrillers, but of the ones I have, this has got to be my favourite so far! Black Ice had all the intrigue and suspense I was hoping for. I literally couldn't stop reading it until the final page. After the Hush, Hush series and this book, I'm really eager for more awesomeness from Becca Fitzpatrick!
Britt has been training for the better part of a year for a backpacking trip in the mountains. She wants to prove herself, and she's willing to strive hard to do it. And she partly wants to show her ex-boyfriend, Calvin, how capable she is. But Calvin gets stuck chaperoning Britt and her best friend (also Calvin's sister) on the trip. Britt's annoyed at first, but it may save her life later. She and Korbie run into trouble as they take a wrong turn in the snow, and are basically taken captive by a couple of fugitives. Both their lives are in danger, and Britt's only hope is to keep the fugitives occupied until Calvin comes to find them. But she soon realizes that one of the two, Mason, doesn't seem to be who he says he is. Britt and Mason both have secrets of their own, but they'll need to trust each other before they can begin to help each other.
Britt's a pretty kickass protagonist. Sure, her fixation on getting Calvin back annoyed me to no end, but I loved her headstrong nature. She's also incredibly smart, and next to the idiotic airhead Korbie, Britt really stands out as determined and levelheaded. She's a quick thinker, and doesn't panic in the face of adversity, which I really admire about her. And I also liked how she didn't immediately trust Mason after he was kind to her. It definitely took a while, since Britt's not very trusting.
Korbie, on the other hand, I really disliked. She just really bugged me throughout, and is definitely not the kind of person I'd want as a friend. The resentment between her and Britt really comes out when they're captive on the mountains, and I hated the petty jealousy in her. Britt is so loyal to her though, and does everything she can to make sure Korbie is safe. I have no doubt Korbie would never do anything like that for Britt.
It took me a while to warm to Mason, obviously, but I found myself really liking his character. Both the fugitive who's on the run with Shawn and the other side of him we see later. Mason has a strong sense of honour, and though things aren't black and white with him, he's trustworthy. And his concern for Britt is really sweet too. At first I thought this would be a Stockholm syndrome kind of romance, something I didn't want, but it's really not. These two genuinely care for each other, as they show several times in the novel. They keep each other alive, both mentally and physically.
I adore Becca's writing in this. It's always drawn me in, but in a thriller novel it's that much more compelling. It made me feel like I was there with Britt up on the mountains and I love it when an author can do that. The writing is honestly one of the best parts of the book. What I didn't particularly like, though, was the predictability. There are big things I figured out about halfway through the novel, and then after that other pretty big things too. Basically, nothing came as a surprise, and that disappointed me a little. But regardless of that, I really enjoyed reading this.
The plotline is fantastic and the pacing fast and intense. This is a really intense book! With loads of action and it'll honestly keep you at the edge of your seat. I adored this story. The climax definitely does not disappoint, and the ending is perfect. This is a beauty I'd certainly recommend to, well, everyone.
*Thank you to Simon and Schuster for providing me with an eARC for review*
Rating: 4/5