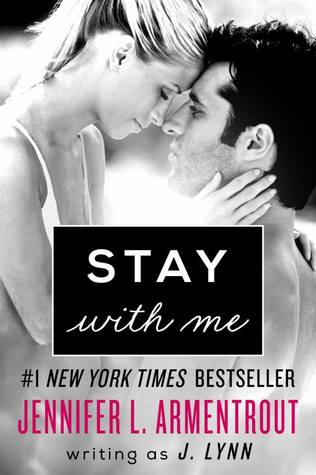 Title: Stay with Me (Wait for You #3)
Author: J. Lynn
Release date: September 23rd 2014
Publisher: William Morrow
Genre: New Adult Contemporary Romance
Format: eARC
Pages: 350
Source: Edelweiss
At 21, Calla hasn't done a lot of things. She's never been kissed, never seen the ocean, never gone to an amusement park. But growing up, she witnessed some things no child ever should. She still carries the physical and emotional scars of living with a strung-out mother, Mona—secrets she keeps from everyone, including her close circle of college friends.

But the safe cocoon Calla has carefully built is shattered when she discovers her mom has stolen her college money and run up a huge credit card debt in her name. Now, Calla has to go back to the small town she thought she'd left behind and clean up her mom's mess again. Of course, when she arrives at her mother's bar, Mona is nowhere to be found. Instead, six feet of hotness named Jackson James is pouring drinks and keeping the place humming.

Sexy and intense, Jax is in Calla's business from the moment they meet, giving her a job and helping her search for Mona. And the way he looks at her makes it clear he wants to get horizontal . . . and maybe something more. Before Calla can let him get close, though, she's got to deal with the pain of the past—and some very bad guys out to mess her up if she doesn't give them her mom.
Stay with Me is yet another amazing installment in the Wait for You series. This book follows Calla, Teresa's friend from college. And the different thing in this book is that it isn't actually set in that college - it takes place over the summer, in Calla's hometown. Though it took me a little while to get into this and enjoy it, I ended up loving it just as much as the previous books.
Calla carries a lot of secrets with her, a lot of pain too. Most of it isn't detectable, except for the scar going across her left cheek, which has always made her feel self-conscious. Calla hides her real life from her friends and tries to pretend she's normal, but when she finds out her druggie mom has stolen all of her college bank balance, she needs to go back and find her. And what Calla finds when she goes back is pain, danger, and Jax.
At first, I couldn't bring myself to really like either Calla or Jax. Sure, I sympathized with Calla, but I hated it when she never stood up for herself, always needing Jax to speak up for her. And Jax initially struck me as shallow - especially when he kept going on about the fact that he only kisses hot and beautiful girls, saying nothing about personality or anything else. Also, he constantly calls Calla 'honey', which kind of got on my nerves.
But later on, as the novel progressed, Calla grows a pair. She becomes bolder, and definitely more strong-willed. Calla's been through a lot, and seeing this development in her was amazing. Jax steps up too - he shows us just how much he cares about Calla, and I found myself loving him by the end. He's a nice guy, and yeah he's got his own secrets but his primary focus is always Calla.
I liked the danger aspect in this book - it's a lot more than in the previous ones, what with all the drug dealers and guns and knives, etc. Some parts really made my heart race. Calla gets into a lot of trouble, way more than a smart girl should, but I still really liked her. And we get some surprise appearances! Avery, Cam, Teresa and Jase all show up to check on Calla, and they do help her out. I loved seeing them again. We also get to see Ollie and Brit in the beginning. But that's not the surprise. No, the surprise was seeing other J. Lynn characters pop up in this book for a minute or so! I won't say who, but it was really cool.
So overall I really loved Stay with Me. Especially Jax, he was incredible. I have no doubt all JLA fans will enjoy this as much as I did. And I'm so eager for the next book now! This has got to be my favourite NA series so far. JLA has done it again!
*Thank you to HarperCollins for providing me with an eARC for review*
Rating: 4.5/5