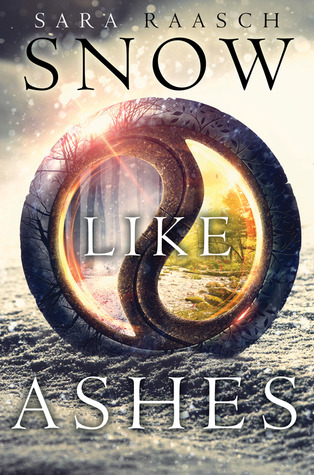 Title: Snow Like Ashes (Snow Like Ashes #1)
Author: Sara Raasch
Release date: October 14th 2014
Publisher: Balzer + Bray
Genre: Young Adult Fantasy
Format: eARC
Pages: 277
Source: Edelweiss
A heartbroken girl. A fierce warrior. A hero in the making.

Sixteen years ago the Kingdom of Winter was conquered and its citizens enslaved, leaving them without magic or a monarch. Now, the Winterians' only hope for freedom is the eight survivors who managed to escape, and who have been waiting for the opportunity to steal back Winter's magic and rebuild the kingdom ever since.

Orphaned as an infant during Winter's defeat, Meira has lived her whole life as a refugee, raised by the Winterians' general, Sir. Training to be a warrior—and desperately in love with her best friend, and future king, Mather — she would do anything to help her kingdom rise to power again.

So when scouts discover the location of the ancient locket that can restore Winter's magic, Meira decides to go after it herself. Finally, she's scaling towers, fighting enemy soldiers, and serving her kingdom just as she's always dreamed she would. But the mission doesn't go as planned, and Meira soon finds herself thrust into a world of evil magic and dangerous politics – and ultimately comes to realize that her destiny is not, never has been, her own.
Snow Like Ashes is a great example of the awesome fantasy novels that are slowly taking over the YA fiction community. I loved the premise and the characters, and most importantly the writing. Sara Raasch has totally pulled me into her beautiful yet dangerous world, and I'm excited to see more from her.
Meira and seven others are the only Winterians who escaped sixteen years ago when Winter was invaded and defeated by Spring forces. Meira was just a baby then, and doesn't feel a true connection to Winter. But she strives to do whatever it takes to help Winter get back on its feet, and then she can finally have some Winter memories of her own. Magic in the kingdoms comes from objects known as conduits, and Winter's conduit is a locket. Meira decides to go retrieve the locket herself, which sparks the danger and action that begins soon after.
The basic concept is there are eight kingdoms in the land - four Season kingdoms and four Rhythm kingdoms. Each have a ruler. There are four male ones, and four females. The magic they have can only be passed down to rulers of the same gender. So basically the kingdoms with original female rulers should only have queens, as they are the only ones that can possess and control the magic. Each kingdom uses the magic as seen fit for their people. I think the concept is really cool, and I'm intrigued to know more about where the magic comes from and how the people came to possess it.
Our protagonist, Meira, is like the epitome of kickass YA heroines. I loved her! She's tough yet really compassionate, and so incredibly driven. I was also really amused by how awkward she can be. Though hardened by the life she leads, Meira is far from cold or aloof. In fact, all she's ever wanted (apart from saving Winter) is to be acknowledged and appreciated by Sir, the man who brought her up like a father.
I liked that there wasn't too much romance in this book. The focus is kept on Meira's character development and her search for her identity. I wasn't fond of the love triangle that emerged soon in the novel, but I'm glad it's kind of resolved by the end. At least, I think so. Mather and Theron are both great guys. Both are similar in the way that they have a lot of responsibilities, but their characters are pretty different. I gravitated more towards Theron - he's an artsy kind of guy, he loves paintings and poetry. And he seems really easy to be around. Mather on the other hand is the more broody type, and he kind of bugged me at times. But I still liked him regardless.
There are twists in the plot, some of which I saw coming and some that I didn't. I saw a big one coming quite early on, but I brushed it off because I was too caught up in what was going on. I was glad to see I was right! Anyway, I think the way everything is carried out in this book is perfect - smooth pace, no dullness, lots of action and tension.
All in all, this was an awesome read. I'm glad there was no cliffhanger at the end - in fact, it ended pretty well. If some little things had been changed, this might've even worked well as a standalone. There are so many great elements in this book. I hope a lot of them are explored more in the next one! Filled with ferocity, fighting and fear, Snow Like Ashes will keep you on the edge of your seat, compelled by the magic of the world within it.
*Thank you to HarperCollins for providing me with an eARC for review*
Rating: 4/5