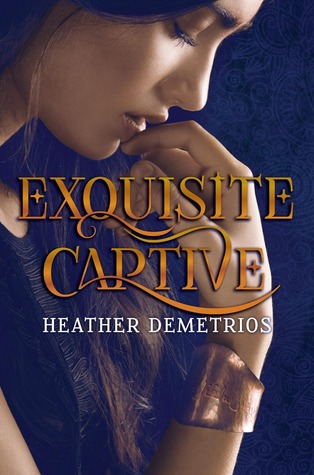 Title: Exquisite Captive (Dark Caravan Cycle #1)
Author: Heather Demetrios
Release date: October 7th 2014
Publisher: Balzer + Bray
Genre: Young Adult Fantasy
Format: eARC
Pages: 334
Source: Edelweiss
Forced to obey her master.
Compelled to help her enemy.
Determined to free herself.

Nalia is a jinni of tremendous ancient power, the only survivor of a coup that killed nearly everyone she loved. Stuffed into a bottle and sold by a slave trader, she's now in hiding on the dark caravan, the lucrative jinni slave trade between Arjinna and Earth, where jinn are forced to grant wishes and obey their human masters' every command. She'd give almost anything to be free of the golden shackles that bind her to Malek, her handsome, cruel master, and his lavish Hollywood lifestyle.

Enter Raif, the enigmatic leader of Arjinna's revolution and Nalia's sworn enemy. He promises to free Nalia from her master so that she can return to her ravaged homeland and free her imprisoned brother—all for an unbearably high price. Nalia's not sure she can trust him, but Raif's her only hope of escape. With her enemies on the hunt, Earth has become more perilous than ever for Nalia. There's just one catch: for Raif's unbinding magic to work, Nalia must gain possession of her bottle…and convince the dangerously persuasive Malek that she truly loves him. Battling a dark past and harboring a terrible secret, Nalia soon realizes her freedom may come at a price too terrible to pay: but how far is she willing to go for it?

Inspired by Arabian Nights, EXQUISITE CAPTIVE brings to life a deliciously seductive world where a wish can be a curse and shadows are sometimes safer than the light.
I can't believe I almost just scrolled past this book. Thank god I didn't! Exquisite Captive is such a compelling book, with an awesome protagonist. I really love that it's inspired by Arabian Nights. There really should be more books like this in YA. Not just because it's diverse, but because it's refreshingly different.
Nalia is the last jinni left of her caste - the most powerful of all the castes. She survived the coup, but ended up on the dark caravan and sold to a human, who's been her master for many years. Malek has always been cruel to her, but his recent shows of kindness confuse Nalia. She knows she has to be free of him, though. And that's where Raif comes in. He's a jinni too, but part of a caste that hates Nalia's. He's also the leader of the revolution in Arjinna - the one against the two most powerful castes. Well, one now, since the most powerful has been destroyed. Raif decides to help Nalia escape her shackles, but in exchange for the one secret Nalia can never give up. She has a choice to make, but will she make the right one?
I loved reading about the different jinni castes and how everything works. The dark caravan is atrocious, yes, but interesting too. I can't wait to find out more about it. I really really liked Nalia as a protagonist. It was a little clichéd that she's the only one left of her caste after the coup, but you can't help sympathizing with her plight as a shackled jinni as well as the fact that she has to constantly hide who she truly is. Oh, not to mention the fact that she needs to basically seduce her cruel master to get her bottle from him so she can finally be free.
For those of you thinking there's a love triangle in this book, let me clarify it for you - there really isn't. Yes, both guys are interested in Nalia. But she only reciprocates the feelings for one of them. As for my opinion on the two... I really liked Raif. And pretty much hated Malek. Honestly, I don't know how anyone would like Malek. He's horrible to Nalia, and treats her like crap. He's tortured her numerous times. There's a sort-of justification later, but really nothing can justify whatever he's done.
On the other hand, Raif was all kinds of awesome. He's a little annoying at first, but as we get to know him and the situation he's in, he's a lot more likeable. It's also amusing how hard he tried to deny his feelings for Nalia. Doesn't work, though! Raif has a lot of responsibility, and he'll do anything to get justice for his caste and make sure they're free of jinni overlords. But Nalia's in the picture now, and that complicates things.
There's also a lot of danger infused throughout the book, because there's a killer after Nalia. And he'll murder anyone in his way to get to her. She needs to be even more careful than before, and all of this just makes things harder for her to do her job and get the bottle from Malek. The climax towards the end is awesome and really intense. And of course there's a bit of a cliffhanger but it's not too bad and I'm now already hooked on this series.
This is one of the 2014 YA books I think everyone should read! If you're sick of the same old thing repeating itself, you will love this change. And even if you're not into fantasy, Exquisite Captive might just end up changing your mind.
*Thank you to HarperCollins for providing me with an eARC for review*
Rating: 4/5