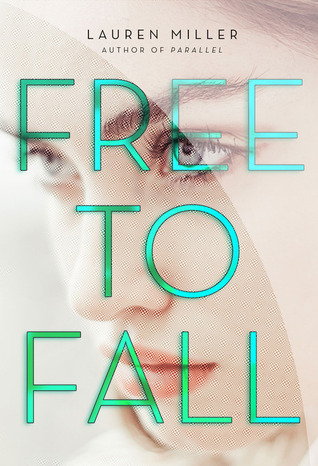 Title: Free to Fall
Author: Lauren Miller
Release date: May 13th 2014
Publisher: HarperTeen
Genre: Young Adult Dystopian
Format: ARC
Pages: 469
Source: Publisher
What if there was an app that told you what song to listen to, what coffee to order, who to date, even what to do with your life—an app that could ensure your complete and utter happiness? What if you never had to fail or make a wrong choice?

What if you never had to fall?

Fast-forward to a time when Apple and Google have been replaced by Gnosis, a monolith corporation that has developed the most life-changing technology to ever hit the market: Lux, an app that flawlessly optimizes decision making for the best personal results. Just like everyone else, sixteen-year-old Rory Vaughn knows the key to a happy, healthy life is following what Lux recommends. When she's accepted to the elite boarding school Theden Academy, her future happiness seems all the more assured. But once on campus, something feels wrong beneath the polished surface of her prestigious dream school. Then she meets North, a handsome townie who doesn't use Lux, and begins to fall for him and his outsider way of life. Soon, Rory is going against Lux's recommendations, listening instead to the inner voice that everyone has been taught to ignore — a choice that leads her to uncover a truth neither she nor the world ever saw coming.
This is a really hard review to write, mostly because I don't think anything I say can express the awesomeness that is this book. The premise interested me from the start, but later on it just gets better and better and I was totally wowed by the end. Free to Fall is a pretty long book. And the fact that I finished it in one or two sittings within a day shows you how compelling it is.
Free to Fall is set in the future, in the year 2030 I think. Gnosis and Lux are what everyone's talking about. Lux is an app that basically tells you what to do and makes decisions for you. You don't have to think at all, and people love that. Most people, anyway - Rory included. When she gets accepted to the elite Theden Academy, she's ecstatic. But once she gets there, she becomes a part of something much bigger. She feels like she belongs, but the inner voice inside her, the Doubt, is getting stronger. Rory desperately wants to ignore it, but can't deny its usefulness. Then she meets North, a hacker working at a coffee shop, who shows her what it's like to think for herself. And when she does, she discovers secrets that go way beyond anything she'd ever expected at Theden.
The concept initially takes a while to get used to. I feel like the book should have been set more in the future, because 2030 isn't far enough away that an app like Lux has taken over the digital world and people don't know what a thumb drive is. But regardless of that, it's a really riveting concept and it's interesting to think about the fact that something like this could actually happen to our world someday.
There's a lot of complexity in this book, lots of plot threads all woven together perfectly. I'd recommend reading it within a couple days because if you lose the flow, it might be hard to get back into it. Basically, a lot goes on. And it's so unpredictable! I loved that about the book. You never see it coming and then BAM, it hits you. Lauren Miller has created a really amazing piece of work in Free to Fall, and I've definitely fallen in love with her writing and her characters.
Speaking of characters, Rory and North are some fine specimens. Rory is one of those smart, determined female protagonists. She knows what she wants, and when she wants to find out something, she just goes ahead with it. Rory's obviously intelligent, but more than that she's compassionate and she thinks quickly on her feet. She and North together are a force to be reckoned with!
I absolutely adored North. He's unconventional - tattoos, mohawk, you get the picture. And I loved that about him. He's sweet and funny and really talented. North works under the radar as a hacker, and Rory needs his skills more than she thought she would. The way their relationship begins reminded me a little of Lena and Alex in Delirium. Rory and North's story isn't as tragic, though!
I don't want to say much about the plot because it's fantastic and I don't want to give anything away. But Theden Academy holds a lot of secrets, and Rory is well on her way to finding them. Some of my favourite parts of the book are her lessons at the academy. The moral decisions they have to make reminds me of a class offered by my school, called Global Perspectives. That's essentially what Rory is learning, albeit in a very high-tech way, of course. I don't know if it would appeal to everyone, but I found those discussions really intriguing in the book.
John Milton's Paradise Lost plays a key role in the overall theme of the book. I haven't read the poem, but I'm a little familiar with it. The idea of the line 'sufficient to have stood, though free to fall' is the essence of this novel, and I love that the author has given us a great message in this book along with an incredible story. I just really, really adored this book, and I recommend it to everyone no matter what genre you prefer. Read this book, guys! You won't regret it, trust me. Free to Fall is one of those books that can change your perspective on a lot of things.
*Thank you to Megan at HarperCollins for sending me an ARC for review*
Rating: 5/5